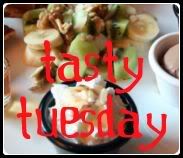 One of the benefits of having a mom who
grew up in Jamaica
and lived all over the United States in her adult life is enjoying all the fabulous meals she learned how to cook along the way. For example, from her 6 years in Louisiana she became an expert in cooking Red Beans and Rice, Chicken and Sausage Gumbo, and Crawfish Etouffee.
Those other recipes will make it to the blog someday, but today we are going to learn how to make Gumbo. Now, my dad jokes that pretty much any meat "makes the best Gumbo" to a native Louisianan. We're talking dove, turtle, miscellaneous roadkill - "Just eat
around
the tire tracks, honey!" Don't worry though, we will be making our gumbo with a little more orthodox meat: chicken and sausage.
A few notes before we get started:
1) My mom recommends using Andouille Sausage. If you can't find that, then spicy italian sausage (not ground) works great, too. If you have young children who can't handle spicy foods, use regular italian sausage, but you will need to add lots of creole seasoning (I recommend Tony Chachere's) to your bowl to compensate for the lack of spice in the sausage.
2) This is Cajun Gumbo, which starts with a dark roux. This means you should get the roux darker than what I have pictured. It was my first time preparing gumbo by myself and my mom says it should have been darker. It tasted great, but just wasn't quite as good as hers! My mom swears by cooking the roux in the microwave. You can do it on the stove in a skillet, but it takes twice as long and requires much more stirring that way.
3) Gumbo is even better on the second or third day. I'm not sure why this is, but since this recipe makes at least 8 servings, plan to have it on leftover night as well. You'll see what I mean!
4) Gumbo needs to cook in the pot for several hours after you prepare it, so plan ahead! If you work, this may be a better weekend meal, so adjust
the menu plan
accordingly.
printable recipe
Chicken and Sausage Gumbo
1 lb boneless, skinless chicken breast
1 lb Andouille sausage
3 onions
3 celery stalks
salt
cayenne pepper
creole seasoning (Tony Chachere's)
1/2 green pepper
4 cloves garlic
1/4 cup fresh parsley
4 green onions
2/3 cup canola oil
2/3 cup flour
rice
Fill a stock pot with water and add the raw chicken, 1 sliced onion, 1 celery stalk with leaves, 1 tsp salt, and 1/2 tsp cayenne pepper. Bring to a boil and cook for 45-60 minutes, until chicken is cooked through. Strain out chicken and vegetables, placing chicken on a plate to cool and tossing out the veggies, but retaining the liquid. This liquid is your stock and should look like this picture.
While the stock is cooking, chop the remaining 2 onions, 2 stalks of celery and the green pepper and set aside.
Also mince the garlic, parley and chop the green onion and set aside in a separate bowl.
After the chicken cools a little, shred it with a fork.
To prepare the roux, combine 2/3 cup each of oil and flour in a large, microwaveable bowl.
Microwave on high for 6-8 minutes, stirring every few minutes until the mixture is brown: darker than golden but not dark brown. Darker than this picture, I chickened out right at 6 minutes, it should have gone for another minute or so, but your microwave may vary so watch it.
Add your chopped onion, celery and green peppers and microwave for 3 more minutes. The color in this picture is closer to what it should have looked like before I added the vegetables.
Add your garlic, parsley and green onion and microwave for 2 more minutes. At this point it should be dark brown, see how mine never quite got there? This is a classic example of "do as I say, not as I do."
Measure the stock in your stock pot. Add water so that there is 8 cups of liquid total. Once you have the correct amount of liquid, throw in 2 tsp salt, your vegetable roux, and the chicken.
Cut your sausage into 1/2" slices and cook in a skillet over medium heat until it is slightly browned and has given up its fat. This will keep your gumbo from getting too oily.
Add your sausage to the pot and bring to a boil.
Reduce heat and simmer for 2-3 hours.
Serve over rice with extra Creole seasoning and gumbo filé seasoning (optional). We like to serve gumbo alongside a salad and buttered french bread.
This recipe is featured in
Menu Plan 12
.