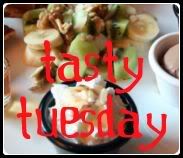 When I was pregnant with my daughter, I could have lived off of Olive Garden's Zuppa Toscana. I loved it so much. I still love it only now I don't have to beg my husband to take me to Olive Garden when the craving hits, because I just learned how to make it from scratch at home. It's easy! And oh so good.
I found this recipe on the
Tasty Kitchen
portion of
The Pioneer Woman
.
printable recipe
serves 6
1 pound Spicy Breakfast Sausage (I used Jimmy Dean Hot Sausage)
1 whole Medium Red Onion, Diced
2 slices Bacon, Diced
3 cloves Garlic, Minced
3 whole Medium Potatoes
1 quart Warm Water
3 cubes Chicken Bouillon
¼ bunch Kale, Roughly Chopped
½ cup Heavy Cream
Salt And Pepper, to taste
In a large stockpot or Dutch Oven, cook the sausage over medium-high heat, breaking it up as you cook it, until no longer pink. Drain and set aside.
Add diced onions and bacon to stock pot. Reduce heat to medium and cook until onions are clear.
Add minced garlic and cook for 1 minute.
Slice potatoes in half lengthwise and cut into 1/4″ slices. Cut the slices in half again, unless using small potatoes. Add warm water, bouillon cubes and potatoes to the Dutch oven and simmer for 15 to 20 minutes until potatoes are almost done.
Add kale, cooked sausage and cream.
Simmer for 5 more minutes.
Serve hot with French Bread or
Butter Rolls
. I think this soup was just as good, if not better, the next day as leftovers! Even the kale stayed fresh tasting in the soup. Fantastic.